Learn about opportunities to attend our state and national conferences.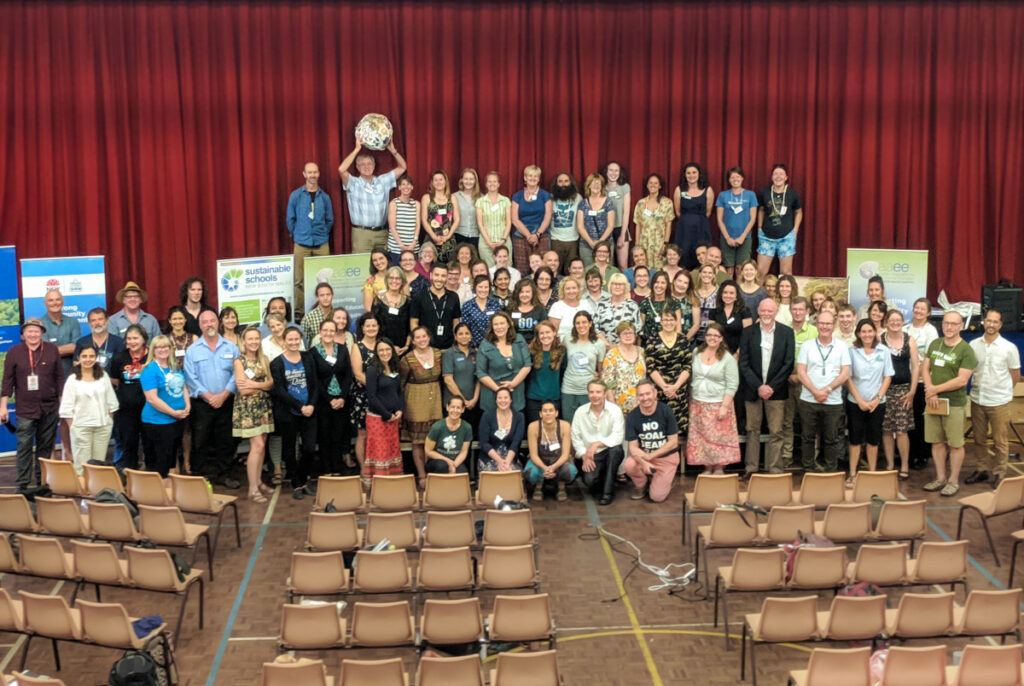 EE NSW is proud to be in its

fifth decade of delivering conferences

for environmental educators.
Our first state conference was held in 1976. Currently we hold the state conference biennially and every other year we attend the national AAEE conference, or co-convene it in the years that it's held in NSW.  
These conferences are a key point of connection and collaboration for our community, providing inspiration, practical solutions and combined purpose. 
Members receive discounted rates and access to special offers, however the conferences are open to all interested parties across all sectors and we welcome a diverse range of presentations and sponsorship.
2023 Conference
EE NSW is a presenting partner alongside the University of Wollongong for the 2023 AAEE National Conference & Research Symposium, September 25-27. 
Scroll down for more details.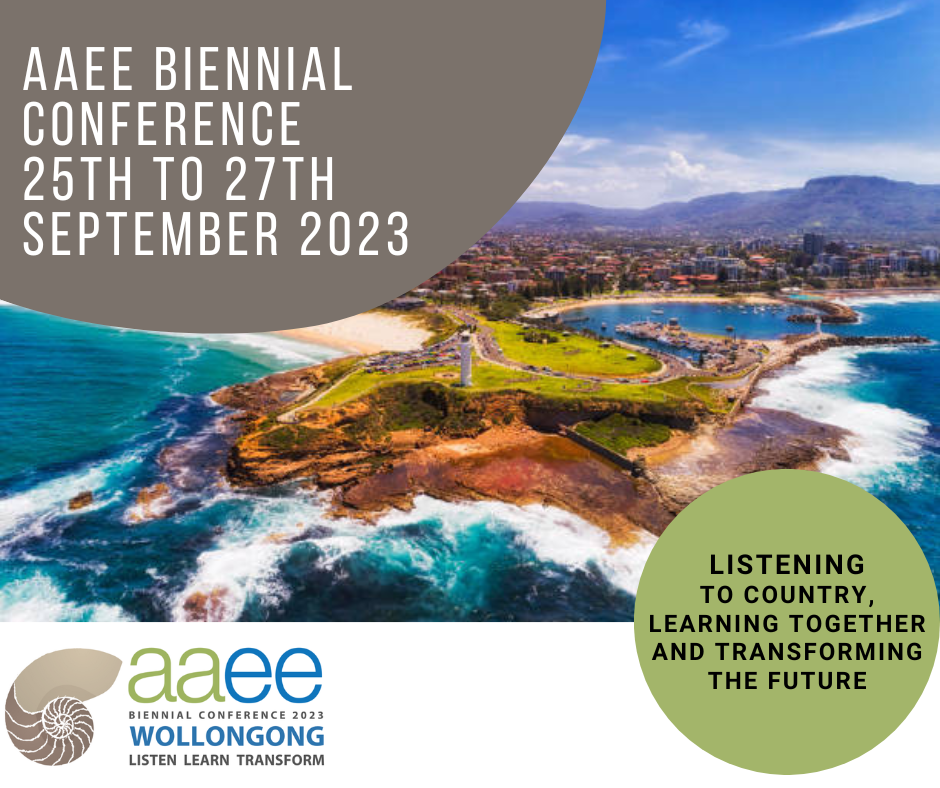 Brian Foreman Scholarship 2023 – $900 towards conference tickets
The Brian Foreman Scholarship was created to assist a member of the association to travel and attend the biennial conference. Brian Foreman was a founding member of the Association in 1980 and his work in South Australia is legendary. This award is in recognition of Brian's contribution to environmental education in general and to AAEE in particular. Read Brian's Story.
In 2023 it is intended that this scholarship will provide an AAEE financial member who is an environmental educator or a student in a related field with financial assistance (up to $900) to attend the AAEE Biennial National Conference in Wollongong Sept 25-27, 2023. The successful applicant will be invited to speak at the conference. Members from any state are encouraged to apply. To check your membership status, please login to the AAEE member area or email admin@aaee.org.au.
Each year we crowdfund to keep the scholarship going, so we can provide a ticketed opportunity for someone who needs it at each successive national conference. This year we have a "Pay It Forward" donation option when attendees buy tickets to our conference, and we hope our members can help us by getting behind this campaign!
Application form – applications are due by July 3rd, 2023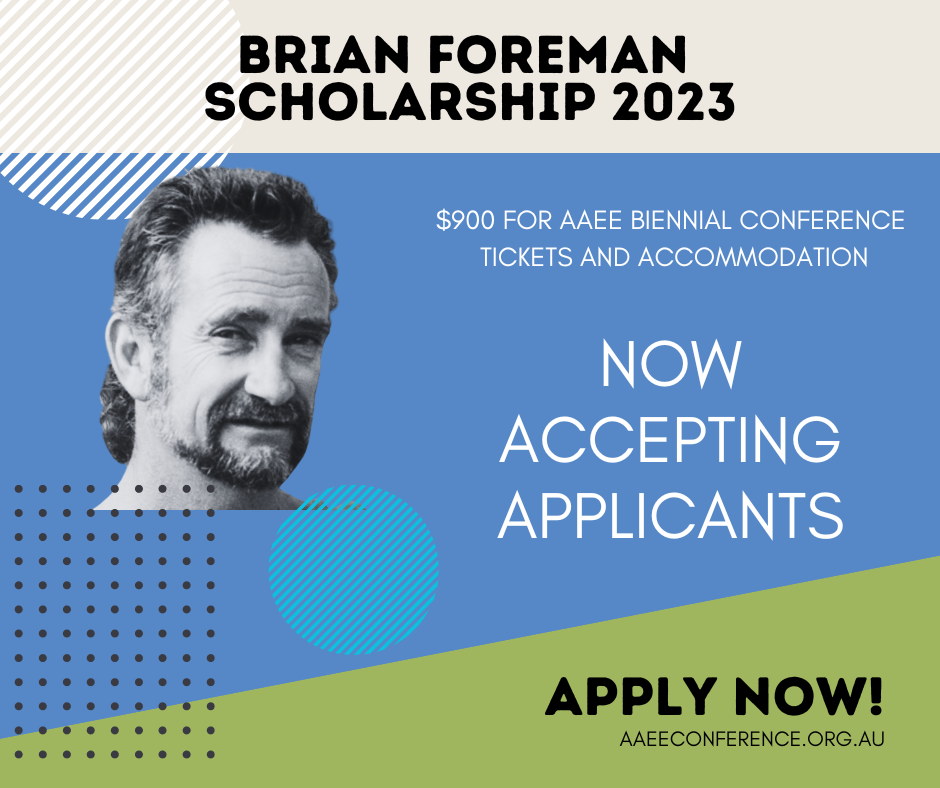 The national environmental education conference is held biennially (every two years) and alternates location amongst the states. 
The conference brings together educators from across the country with key researchers and practitioners, often including international guests from partner organisations. It is convened by a committee from the national and state chapters and a venue host organisation including councils, universities and cultural institutions. 
Research Symposium
The key purpose of the AAEE Research Symposium is to deliver a high quality, interactive, inclusive, conversation-driven event that contributes to the development and growth of the environmental and sustainability education research communities in Australasia. The symposium is blended with the conference in such a way that educators outside of the research community may connect with and utilise new findings to enhance their practice. 
Find out more about the next conference at the AAEE Conference website
EE NSW hosts an Environmental Education Conference biennially (every two years). See the conference website at www.nsweeconference.org.au
Environmental educators young and old, indigenous and non-indigenous, government and non-government, community based and private enterprise are invited to attend and contribute to these conferences. Generous discounts are offered to AAEE members, and we also offer assistance with attendance costs through our Gould League Scholarship and Grahame Collier Regional Mentor Scholarship
The state conferences are run across a range of locations in metropolitan and regional NSW, often in partnership with a local organisation including councils, EZECs, universities, cultural institutions and community environment groups. The conferences have attracted thousands of participants from diverse backgrounds and have a proud history of mixing EE research with practice in a local community context.
These conferences held by other organisations may interest our environmental education community:
The Coffs Harbour Waste Conference is the leading conference for the waste management industry in Australia which is targeted at anyone who works in, or has an interest in waste management issues, particularly local government. AAEE is a proud supporter of this conference.
This conference is held by New Zealand Association for Environmental Education and can be accessed online. Their most recent conference focus was Reconnection with each other, nature and place with an emphasis on Indigenous worldviews.
The Annual Conference and Research Symposium of the North American Association for Environmental Education will offer inspiring and thoughtful keynotes, a rich variety of workshops, symposia, traditional sessions, research panels, roundtable discussions, bright spots, and posters, along with great opportunities for networking, growth, and change. In 2023 the conference is returning to a virtual format and the theme is Together We Thrive.